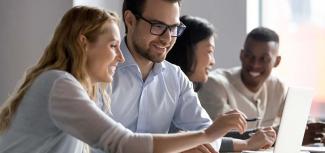 ABOUT THE PROGRAM
The Complete Leader is an EMBA-style leadership development program designed to identify and develop the leadership skills necessary to excel in current and future roles. Through a mix of hands-on learning, presentations, study, and one-on-one coaching, participants spend 14 months working on essential leadership skills.
Whether training your company's emerging leaders or bolstering your current leadership team, each program is customized around developing the skills that matter most to your organization and formatted specifically for you.
---
Who Is It For?
The Complete Leader is designed for companies and leaders who recognize that leadership development is critical to strengthening both company culture and the bottom line. It is a scalable program that can be tailored to every leader in your organization, from senior leaders to those who are just emerging and slated for future leadership roles.
Outside of company sponsorship, individual leaders can also enroll in open cohorts that are offered at select locations globally.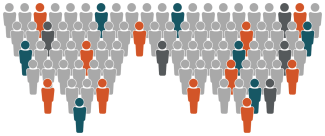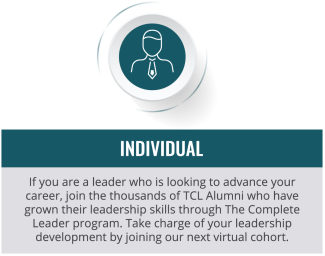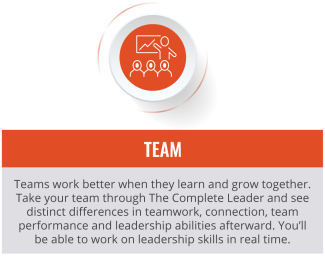 How Does it Work?
The Complete Leader is deployed in two ways:
Companies can sponsor the program for leadership teams. This allows them to tackle current challenges and priorities within the organization, and gives them an opportunity to grow together. Request a program.
Individual leaders or companies with just a few leaders can join an open-enrollment cohort, available in a variety of cities around the world. Find facilitators in your area.
The Complete Leader immerses leaders in the competencies required to be a high-performing leader. Throughout the program, we host expert faculty members who are national thought leaders in the areas of branding, communications, conflict management, teamwork, innovation, and more. Participants receive exposure to these experts and the opportunity to build their network as they continue on their leadership journey.





---
25 Leadership Competencies
The Complete Leadership Program consists of topics broken up into 4 categories, with 25 individual competencies. When you sponsor a program for your organization, the program will be talored to focus on the compencies you define are key areas of growth.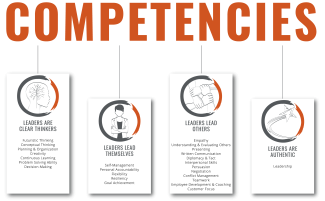 ---
INTERNATIONAL PROGRAMS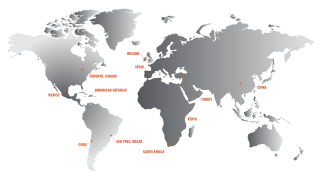 "The opportunity to learn leadership styles from individuals in different industries has been great."
— Frank Teas, Director of Banking Services, Lake Sunapee Bank
"It's a comprehensive program covering many relevant areas, providing excellent self discovery and an improved group dynamic. We saw increased self-awareness and improved communication throughout the team."
— Cohort Participant, Cavium Networks
"Overall, invaluable -- both to me personally, and in my guidance and understanding of our team."
— Elizabeth Roberts, HR & Operations, Compass Therapeutics
"The Complete Leader is a great blend of objective data, personal reflection and group discussion. I highly recommend participating with two or more members of your team to have the chance to develop insights into your own and your team's leadership styles and growth areas. The program has been invaluable to our team."
— Errik Anderson Founder, Managing Partner of Ulysses Holdings, LLC, Compass Therapeutics
"It opened my eyes to a more accurate assessment of myself. I received insights for better understanding people, why they are the way they are, and how to use them to the best of their ability -- all of which made me a better team member. It has been a big advantage for the company."
— Cohort Participant, Superior Farms
"The Complete Leader — a book that essentially teaches you everything you need to become a high performing leader."
— Ken Blanchard, co-author, The One Minute Manager
"Leadership is an exhilarating, gut wrenching, often breathtaking journey that demands changing skills ad lifelong learning. Ron and Randy have just provided a roadmap that should be a well worn reference on every leader's bookshelf."
— Jeff Sayer, (former) Director, Idaho Department of Commerce
"Whether you are a clerk or the manager of a store, the CEO of a corporation or even the president of a country, you will benefit from reading and applying the principles of The Complete Leader."
— Jim Zamzow, Zamzows Superstores
"The combination of presentations and ongoing coaching is helping me apply TCL principles to daily challenges and make the skills permanent."
— Paul Beliveau, Sr. Engineering Manager, FujiFilm