The Complete Leader
Ron Price and Randy Lisk
A comprehensive leadership development text, designed to be used as a reference book, complete with activities and definitions of the competencies and what makes them important and how they are developed and utilized in leadership.
You have the formal education, the experience and maybe even the title. Yet, you crave additional development of your leadership skills not just another business book or workshop, but something practical, actionable and real world. The Complete Leader is for you. Executive coaches Randy Lisk and Ron Price combine experiences and tools gleaned from decades working with leaders from Fortune 100 companies to small businesses, to present 25 modules in The Complete Leader.
Each skill is organized around the four qualities necessary to leadership excellence. Presented in a way that is both customizable and scalable, each leadership competency utilizes practical tools for defining, practicing and becoming the greatest version of yourself. The companion site, TheCompleteLeader.org, includes individual assessments and furthers the ideas presented in each section, offering additional methods to deepen practice and learning. This combination of book, assessments and website round out a robust program designed for today's established executives and tomorrow's emerging leaders.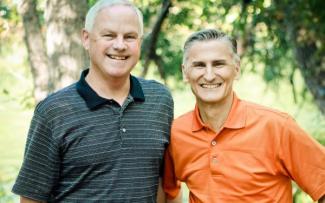 The Authors
Ron Price is the President of TTI Success Insights, an internationally recognized business advisor, speaker and author. He has worked in 15 countries and served at almost every level of executive management over the past 40 years. As a former CEO of a multi-million dollar an international company, Ron understands the challenges and risks of running a business and building a dynamic team. He works shoulder to shoulder with executive leadership teams to bring strategic clarity and transformational results to organizations, especially those dealing with turmoil and transitions. Ron is the author of eight books, including Optimizing Strategy and The Innovator's Advantage.
Randy Lisk founded Lisk Associates, consultants to business, in 1991. Randy enjoyed a 23-year career with IBM where he held numerous senior management and leadership roles. Before his retirement, he worked as a group facilitator, trusted advisor, coach and consultant. He designed and presented supervisor and leadership education, taught communications and leadership skills to managers, and positively impacted the lives of thousands of people. Randy is the author of three books, including Bumper Sticker Leadership.
praise

for the Book

"The Complete Leader — a book that essentially teaches you everything you need to become a high performing leader."

— Ken Blanchard, co-author, The One Minute Manager

"Whether you are a clerk or the manager of a store, the CEO of a corporation or even the president of a country, you will benefit from reading and applying the principles of The Complete Leader."

— Jim Zamzow, Zamzows Superstores

"Leadership is an exhilarating, gut wrenching, often breathtaking journey that demands changing skills ad lifelong learning. Ron and Randy have just provided a roadmap that should be a well worn reference on every leader's bookshelf."

— Jeff Sayer, (former) Director, Idaho Department of Commerce

"Leaving nothing out, Ron Price and Randy Lisk reveal everything you need to know to be The Complete Leader."

— Marshall Goldsmith, author, What Got You Here, Won't Get You There