Davina Ware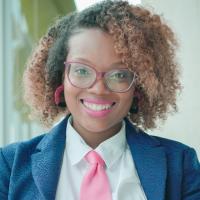 Location
Chicago, IL 60007
United States
Davina is certified by the International Coaching Federation. In addition, she holds an MBA in Integrated Marketing Communications from Roosevelt University, a Bachelor's in Marketing Communications from Columbia College Chicago, and is a Direct Marketing Certified Professional.
Davina Ware is a Career Transition Coach, marketing professional, and founder of Upwardly Paved Path career coaching. She helps professionals get out of their own way to transition into careers of influence that utilize their gifts and talents every day. Through the latest career transition principles, personal branding, and personal development she leads her clients to have authority in their next career move. 
She is no stranger to career transitions as she has worked within higher education, telecommunications, non profit, and healthcare industries. In the past 15 years, Davina has learned the keys that hiring managers value in prospective candidates and what makes a successful employee in any field. 
Contact